Systematic Forms
Systematic's forms editor lets you build sophisticated forms which can be used to guide staff through tasks, or assigned to stations for staff to fill in.
Example: Balancing Tills Form
Let's run through creating a simple form for staff to balance tills at the end of a shift. When completed, this form will be emailed to the area manager.
Create a form
Tap the Organisation tab at the bottom of the screen, then select Forms.
Select '+' to create a new form.
Enter "Balancing Tills" as the form title.
Select an icon if you wish.
Then tap 'Form' to start editing the form content (note: this is the same form editor as for Tasks).
Add some fields
We'll start with two fields for specifying the till and the float.
Add a Sub Form. On iPhone, drag the palette at the bottom left to see it.
On iPhone, edit the sub form by tapping the 'up arrow' icon at the bottom of the view.
Select 'Two Columns', 'Show Border', and 'Required All'.
Back on on the form: tap the 'Text Entry' box in the palette.
Enter "Till" in the 'Placeholder' field.
Back on form: tap 'Text Entry' again and add a 'Float' text field.
At this point, you can go ahead and enter the remaining fields on the form, so it looks something like the below example. You can use number fields for the coins count.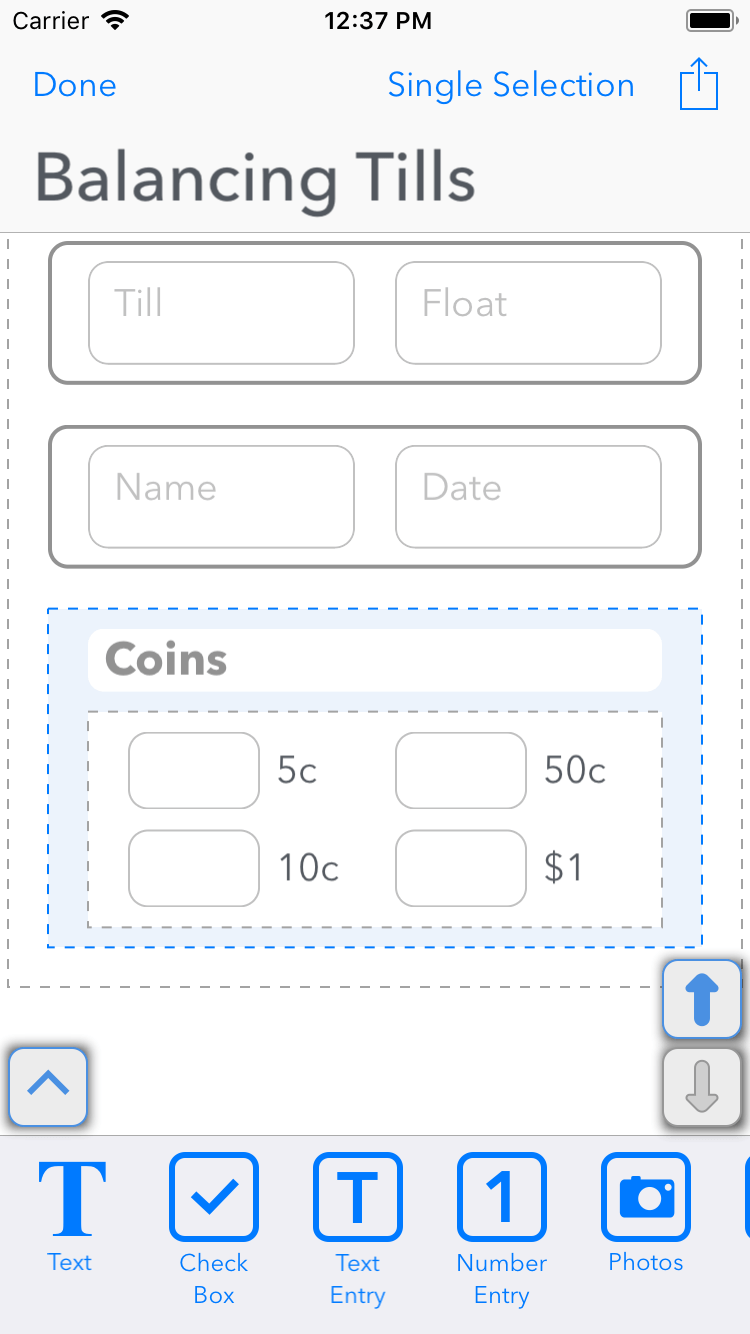 Finishing the form
Now we'll assign the form to stations and set what happens when form is filled in.
Select which stations you want to make the form available to. In this case, the form is only of interest to our Front stations.
You could also assign the form to a category in 'Categories', which is a useful way to visually group forms if you have a lot of them.
Tap 'On Completion'. You Could Select 'Notify Managers Immediately', which would send a push notification alert that the form has been submitted. Or you can choose to email the form, either as soon as it's submitted, or in a batch emailed at the end of the day or end of the week.
Hit the 'Back' button to show the document editor again.
Where To From Here